DETROIT CATHOLIC CENTRAL
HOME OF THE 2010 STATE CHAMPIONS
8 MHSAA TEAM STATE TITLES 
16 ALL AMERICANS
43 INDIVIDUAL STATE CHAMPIONSHIPS 
133 ALL STATERS    
---
 Coach Krause Headed to Monterey Coaches Clinic
Team Shamrock Head Coach Mike Krause has been selected to be a head clinician at the 2010 Monterey Coaches Clinic held in California.  Coach Krause will join Olympic Champions Jeff Blatnick and Henry Cejudo along with legendary Minnesota High School Coach Scot Davis. The Monterey Coaches Clinic is considered to be one of the premere coaching clinic's in the USA.  Congrats to Coach Krause for representing Team Shamrock!
Logan Marcicki Leads the Way in Grappler Classic 
Freshman Logan Marcicki made a statement this past Saturday as he went 4-1 in route to finishing 2nd at the Grappler Classic. Marcicki defeated Division 2 state placer Jeff Jenkins of Tecumseh 11-6 and Division 3 runner-up Joey White of Dundee 10-6 before falling to Davison's Terry Turner in the finals.
5 other Team Shamrock members placed in the fall classic. 
Malik Amine- 6th at 112lbs
Zack Colone- 7th at 112lbs
Ken Bade- 4th at 119lbs
Miles Trealout-5th at 189lbs
Mike Popiela-7th at HWT
Coach Hancock had a few words to say about the weekend performance:
" I am very encouraged about what I saw this weekend.  It's exciting to be a part of a program were everybody works extremely hard towards the same goal.  These young men have worked their tails off this fall and its going to pay off.  When using this tournament as a measuring stick for next year,  I am very excited about the direction of this team."
Slew of Shamrocks to Compete in Grappler Classic
Senior Captain and All-Stater Miles Trealout will lead a slew of Shamrocks to Tecumseh High School this Saturday to compete in the 1st Annual Michigan Grappler Fall Classic.  Trealout who placed 7th in the state last year will enter the tournament at 189lbs.  More than 15 Shamrocks are expected to compete for Team Shamrock in this weekends fall tournament.
---
Baby Shower
The Shamrock wrestling moms and coaches' wives are getting together to celebrate the arrival of Mitch & Allie's first baby (a girl!).  There will be a baby shower for Allie (ladies only) on Friday, October 22, 2010 at 7 pm at the Pine Creek Subdivision Clubhouse, 5317 Hidden Pines Dr., Brighton, MI  48116.  A wonderful meal and festivities are being planned. 
What a great time to get together, meet some of the other moms, and celebrate a wonderful event. 
Please RSVP to Marylyn Thompson at your earliest convenience at marylynthompson@yahoo.com or 734-474-0367. 
WHAT A GREAT WAY TO KICK OFF THE SEASON ..... PLEASE JOIN US!

---
  Colone Competes Hard at Boarder Wars Fall Duals
Junior Zack Colone had a successful weekend as he went 3-1 at the Boarder Wars Fall Duals in route to helping Team Black and Blue defeat Rampage Red in the finals.  Colone's only defeat of the day was to Davison freshman Justin Oliver 2-0.  Colone who was a CHSL Runner-up last year finished the season with a 32-8 record. 
Coach Hancock had this to say about Zack's performance this weekend:
" I am proud of Zack.  Anytime one of our athletes steps on the mat and competes in the off season he is showing a commitment to get better.  I think Zack is going to have a great year and I look forward to watching him accomplish his goals."
---
Prayer Request
Assistant Wrestling Coach Bob Moreau will be undergoing a knee replacement operation on Friday, October 1st.  Please keep him in your thoughts and prayers as he goes through this process. Coach Moreau will be hospitalized at Providence Hospital in Novi.
Feel free to call him and check up on him: 734-255-2824
 Mighty Mike Martin
---
 Shamrocks Ranked #1 in Early Pre-Season Team Rankings
The Catholic Central Shamrocks enter the 2010-2011 with high expectations and for the first time in 22years as returning Division 1 State Champs.   The Shamrocks return 1 state champ, 5 all-staters and a state qualifier.  Leading the way for CC is 2x State Champ Alec Mooradian whose 2 year record stands at 109-1.  State placers T.J. Fagan, Ken Bade, Nick Mason, Miles Trealout and Kevin Beazley will look to add their names to the long history of Catholic Central individual state champions.  Serving as a two sport captain this year, Andy Erickson enters the 2010-2011 season as a returning state qualifier and won't be satisfied without a title.
Michigan Grappler recently released the early Pre-Season rankings with the Shamrocks sitting at the #1 Spot in Division 1 and the #2 spot in the Power 15. 
---
 Super 32 Registration
BATTLE FOR THE BELT - OCTOBER 30-31, 2010, Greensboro, NC.
Regular registration will open on Sunday, September 26 at 1:00 pm Eastern time

This tournament is recommended for Varsity A and B Wrestlers!
According to Intermat's National High School Rankings, the 2009 Super 32 Challenge featured 72 wrestlers on the final list. Only one other tournament in the country surpassed that. Also, the 2009 Super 32 Challenge featured over 200 state champions, that is an average of 14 per weight class! Not only is the Super 32 Challenge the premier pre-season tournament, it is also one of the toughest in the country.
Over 50 college coaches were attendance last year, featuring 15 of the Top 25 programs at the 2010 NCAA National Championships.
---
  Uncommon Champions
<
Wrestling Videos on Flowrestling
---
 Marcicki and Garcia Ranked Amongst Top Freshman
Catholic Central freshman Logan Marcicki (pictured left) and Andrew Garcia both enter Catholic Central with impressive youth resumes. Both wrestlers look to make immediate impacts in the defending champs line-up.  Grappler released today it's incoming freshman rankings and Marcicki finds himself at the #6 spot while Garcia at the #8 spot. Other talented incoming freshman include: Malik Amine, Eli Joseph, Jimmy Russell, Ryan O'Connor, Evan Toth, Ryan McCord, Greg Johnson, Ara Shanlian, Parker O'Brien and many others.
 Bade Wins IndianaMat.com Preseason Open
Sophomore Ken Bade pictuerd left visited the land of Hoosiers this past weekend as he entered the IndianaMat.com Pre-Season tournament.  This tournament also counted as a qualifier for the presitigious Super 32 Tournament held in Greensboro, NC on October 30-31st.
Bade entered the tournament at 122lbs and won four consecutive matches to earn the gold.  Bade won by injury default in his first match over Evan Lowe of Indiana, pinned Brian Henneman of Ohio in 1:29 in round 2 and defeated TJ Ruschell, brother of Wisconsin stand-out Kyle Ruschell, 8-5 in the semi's.  In the finals Ken beat William Spangler who placed 5th at the Ohio State meet at 112lbs last season 3-1.
Michigan State Fall Training Camp
Shamrock Grapplers will be taking advantage of another training opportunity by traveling to East Lansing on Mondays to train with Chris Williams, MSU's assistant wrestling coach.  The Shamrock Wrestlers' are hard at work in preparation for the Grappler Fall Classic on October 16th and the Super 32's on October 30-31st.
Click on Advertisement for Details
 University of Michigan Fall Training Camp
Starting Sunday, September 12th, from 10am-12pm University of Michigan Coach Mike Kulczycki will be running practices in preparation for the Grappler Fall Classic and Super 32's.
Location: University of Michigan Bahna Wrestling Facility: 2350 S. State St. Ann Arbor, MI 48104
FEE: There is a pre-season upfront fee for $125.00 for 10 workouts or you can pay $15.00 for each Individual practice
Please contact Coach Mike Kulczycki at mkulczyc@umich.edu for any additional information.
Kinville Brothers are In it Together
Joe Kinville stepped on the field last Thursday vs. Hampton University and continued to do what he does best, battles.  Kinville who walked on at Central as freshman, didn't play and decided to walk away after the season.  A year later, joined by his younger brother Mike, Joe decided he wasn't finished.  Walking on for a second time this fall, Joe finally saw the hard work pay off as he was named a starter for CMU at defensive end this past thursday in Central's 33-0 win over Hampton. Mike Kinville is listed as a linebacker for the Chippewas and will red-shirt this season.
Head Coach Dan Enos had this to say about Joe Kinville after the win: " Joe Kinville wasn't even on our team, or in the program. It was in the middle of January and this kid comes walking into my office and says, 'Hey coach, I'm Joe can I be on the football team?' And he's our starting defensive end today. Joe Kinville is 245-250 pounds, he was a linebacker and he had never played defensive line before and we challenged him. The guy is tough and a worker, a very good high school player out of Catholic Central and a very good high school wrestler. You win with guys like Joe. He's gonna do it the right way. He's gonna be tough and he's going to give effort every play."
---
Bade ranked as one of Michigan's Top Sophomores
The latest installment of Michigan Grappler's
updated recruiting rankings has been released and Shamrock Sophomore Ken Bade sits at the 8th spot.  Bade finished 3rd last season at 103lbs finishing the year with a 54-5 record with four of those losses coming at 112llbs.
Leading the way for the class of 2013 are Adam Coon of Fowlerville and Jacob Schmitt of St. Johns.  St. Johns has four wrestlers ranked in the top ten. 
Click Here to view Complete List of Rankings

---
 4th Annual Shamrock Open Golf Outing Sells Out
The 4th annual Shamrock Open Wrestling Golf Outing was a tremendous success, as it sold out with over 155 golfers participating and another 30 attending the dinner banquet.  The outing which was held at the Links of Novi, brought along some warm weather as well, as tempartures reached the low 90's. 
Leading the way and winning the outing was Catholic Central's own Athletic Director Aaron Babicz and his teammates Ed Babicz, Mark Cifaldi and Brian Dawson with a 53 (-17).
Other winners included:       Mens Longest Drive: Mark Cifaldi
                                           Ladies Longest Drive: Katherine Kinville
                                           Closest to the Pin Mens: Mark Cifaldi
                                           Closest to the Pin Womens: Marcy Amine
Thanks to Dave and Chris Butwill, Kevin Trealout and Claudia Minevielle, Lisa and Mark Erickson, Joe and Josephine Silvestri and Joe and Debbie O'Connor for thier time and talents in putting this outing on.  It was a great day to be a Shamrock!
 Mooradian, Mason and Beazley ranked
     in Grappler's list of Best Juniors
Alec Mooradian, Nick Mason (Pictured Left) and Kevin Beazley find themselves on Michigan Grappler's list of the best Junior's in the state. 
After winning Junior National titles in both freestyle and greco-roman,
Freddie
Rodriguez has taken over the top spot in the class of 2012, followed close behind by 4x Fargo Champ Taylor Massa of St Johns.  Alec Mooradian sits at #4, Kevin Beazley at #12 and Nick Mason at # 23.
Grappler states that this class has the potential to be the most nationally proven and highly recruited group to ever come

out of Michigan.
---
  Yeager and Rogowski to Enter Hall of Fame
On Saturday, August 28th Coach Lou Yeager and All American Casey Rogowski will
enter the CC Athletic Hall of Fame.  Coach Yeager and Casey Rogowski will join the 1979 Football Team, Dr. Michael Haynes, Don Munce and Rev. John Ward CSB as the 4th class to be inducted. 
Coach Yeager is a legendary figure in the history of CC athletics, Lou Yeager served his Alma Mater as player, teacher, coach and mentor. After graduating from Assumption College, Lou returned to CC in 1955 to teach and coach. Lou coached Freshmen Football, Varsity Football, Baseball, Hockey and Golf. One of his greatest contributions to CC was as the founder and first coach of the now legendary CC Wrestling program in 1958.
Arguably the greatest athlete in CC history, Casey Rogowski was a multi-sport star who won five State Championships – Football 1997, 1998; Wrestling 1998, 1999 and Baseball 1999.
Casey earned All-State Football honors in 1998, both All-State and All-American honors as a Wrestler in 1998 and 1999 and was named All-State Baseball and Michigan's "Mr. Baseball" in 1999.
Casey was selected in the 13th round of the 1999 MLB Draft by the Chicago White Sox. He earned All Star distinction in the Arizona League in 1999 and the Southern League in 2005. In 2009, Casey returned to his Alma Mater to serve as both an Assistant Wrestling Coach and Baseball Coach.
---
Natale Locks Up Fab 50;Johnson Finishes 4th
Team Shamrock's Caden Natale joins Zack Cooper and Mark Hall in being honored as one of Michigan Grappler's Fab 50 Champions.  Grappler ranks the youth wrestlers based on participation and resutls at a select number of high caliber tournaments.
The 3rd season of the Fab 50 came to an end a few months ago and all the scores have been submitted and tabulated.  After an intense
year of youth wrestling with over 100 Michigan wrestlers who competed in many of the 40 events on the Fab 50 schedule, it was Caden Natale of the Team Shamrock Wrestling Club who finished atop the standings.
Natale, who competed in the 5-6 year old division this year, was a true
Fab 50 ironman, scoring 196 points while competing in a total of 26 Fab
50 events from August thru April.  He won a total of 21 tournament titles
this year, including the Viper Pit in Ohio, Northeast Nationals in
Pennsylvania, the MYWAY Spartan Country Kickoff, and the MUSAW
Freestyle State Championship. 

Also representing Team Shamrock by placing 4th on the Fab 50 list is James Johnson.  Johnson and Natale are workout partners that battle daily in the Shamrock Wrestling room. Both wrestlers have locked up at large bids for Michigan Grappler's All- Future Team.
Also on the list is youth stud Trevor Zdebski who placed 38th.  Zdebski competes at 90lbs in the 13-14 age group. 
 Michigan's Martin Labeled "Workout Warrior"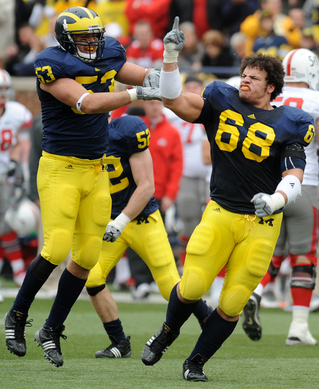 Fomer All American and 2 X State Champion for the Shamrocks Mike Martin continues to impress the country at Michigan.  Martin in his junior year, has played in 24 consecutive games and started in 12 contests at nose takle for the Wolverines. Martin was the recipient of the Richard Katcher award given to Michigan's top defensive line-man.
Another example of Martin's work-ethic came last week, when espn.com blogger Adam Rittenberg listed Martin as one of the Big Ten's "workout warriors" after obtaining
information from each strength program in the conference.
Photo: Melanie Maxwell | AnnArbor.com
Their numbers (obtained by espn.com) rivaled or surpassed the best in the conference, with Martin benching 505 pounds and squatting 705, power cleaning 430 and hang cleaning 475 while still running 4.9 seconds in the 40-yard dash.

Barwis told Rittenberg that Martin is "one of the most impressive physical specimens I've seen."
---
Train with the Chippewas
Catholic Central will be heading to Mt. Pleasant on July 14-17th to train with Tom Borrelli and the Central Michigan Chippewas.  If you are interested in attending fill out a Camp Waiver and return the forms to Coach Hancock by July 12th.
---
Goings and Zyrini Train with the Hawkeyes
Junior Alex Goings and Fernando Zyrini have made a major commitment by traveling to Iowa City, Iowa to train with Dan Gable, Tom Brands and the University of Iowa.  Goings and Zyrini both of whom recently attended the Jeff Jordan camp, in Ohio, will be taking part in the Iowa Intensive Camp which runs from July 4th-15th.  Both Goings and Zyrini will be looking to make a major impact in the Shamrock line-up come next winter.
---
 Prayer Request
Rhonda Bartram, mother of Brad Bartram class of 2004, was admitted to Providence Hospital late last week. Rhonda and the Bartram family have been very supportive of CC Wrestling over the past 10 years. Please keep her and her family in your thoughts and prayers.
---
 Tyler Perry Wins National Title for Team Shamrock
Tyler Perry competed in 2010 National High School Coaches Association (NHSCA) National Open Wrestling Championships, July 2-4 at the Wicomico Youth Civic Center in Salisbury, Md.  He wrestled in the 95 lbs. weight class in the elementary division.  Tyler pinned his way through the competition in the en route to a national title.  Congratulations to Tyler and Team Shamrock!
---
 Shamrocks Shine at U of M Competition Camp
Eleven Catholic Central Shamrocks attended the University of Michigan Team Competition Camp during the week and showed signs of progress.  The Shamrocks' competed in 9 Dual Meets and also competed in an individual tournament on Thursday afternoon giving them close to 15 matches. Attending the camp were Nick Mason, Joe Silvestri, Andrew Thompson, Angelo Toppi, Jake Filban, Joe Sheppard, Christian Miner, Palmer Palusiak, Josh Gandy and Malik Amine( Not Picutred).
 Mooradian and Bade Represent Michigan
Junior Alec Mooradian and Sophomore Ken Bade will travel this week with two different organizations to represent Michigan in National tournaments.  Mooradian a 2X State Champ for the Shamrocks will be heading south to Oklahoma City to compete in the USA Junior National Duals.  Mooradian is scheduled to wrestle 125lbs for Team Michigan in both Greco and Freestyle. Greco-Roman action begins Friday and will conclude on Saturday night with the finals at 8 p.m. Eastern Time. Freestyle wrestling will commence on Sunday, with the finals starting at 8 p.m. Eastern Time on Monday. 
Click Here for Results
Sophomore state placer Ken Bade will be heading south to Florida to represent Michigan at the Disney Duals. Michigan will be sending four teams to the duals with Bade wrestling on the Blue team. Bade will be wrestling at 112lbs for Team Michigan.  For more details on the teams and the event
click here
---
 Edlridge vs. Humes in MWA All Star Classic
Shamrock State Champion Doug Eldridge,pictured left, will compete in the Michigan Wrestling Association All Star Classic at Hartland High School on Friday, June 18th at 6:30pm. The Classic was started by the Michigan
Wrestling Association in 2008 with the intent
of pitting the state's top seniors from differing
divisions against one another.  In addition,
the event is used to highlight individuals who
have stood out in the Michigan wrestling
community.

 Eldridge who won the Divison 1 title at 145lbs will wrestle Nick Humes from Stevensville Lakeshore who placed 3rd at 145lbs in Division 2. Eldridge has committed to wrestle for Tom Borrelli at Central while Humes has agreed to wrestle for Tom Minkle at Michigan State. 

---
Matt Thompson Wins CHSL Mike Rodriguez Award
Matt Thompson who sealed the deal for the Shamrocks in February vs. Rockford was named the Mike Rodriguez Wreslting Award Winner by the Catholic League.  The Wrestling Award was named in honor of the former Detroit Catholic Central Wrestling Legend, Coach Mike Rodriguez. Selections for this award are based on academic achievement, while being a member of
the varsity team. 
Thompson graduated with a 4.6 GPA and has been appointed to the United States Military Academey at West Point.  Thompson is the first award winner from CC since Matt Peterson in 1998.
---
 9 Shamrocks Become Jordan Trained